Letter from APHA Executive Director Georges C. Benjamin, MD
Dear Public Health Champions,
The year 2020 was challenging for the health of the public. The COVID-19 pandemic taxed the planet like never before. However, public health practitioners were up to the challenge, and we now see the light at the end of the tunnel. National leadership, trusted research and a focus on sound public health and prevention principles have put us on a pathway to ending the pandemic and returning our nation to economic prosperity. Now we need to do the work to build, once and for all, the public health capacity that all Americans deserve.
As we head into National Public Health Week 2021 — with the theme "Building Bridges to Better Health" — we at APHA welcome you to celebrate with us safely: wear a mask; stay physically distant; wash your hands; and get a flu shot and the COVID-19 vaccine when it becomes available to you. We must be well and able to face the task of rebuilding.
Public health advocates have long fought for more funding, more support and more public engagement to make their work possible. This pas year has shown how important public health is to all of us. Rebuilding the systems that keep us healthy and safe means having the vision to create a better, more inclusive, more just world through public health that begins with a firm foundation of equity.
We believe all people deserve to achieve their optimum level of health. To ensure that happens, we must all do the hard work to build the public health system of the future. With so much ground to cover, it's now more important than ever to come together virtually to celebrate NPHW, April 5-11. This year's celebration kicks off our efforts for a new beginning.
We need your help to move forward. Working together, we can build healthier communities and the healthiest nation.
Best and healthy wishes,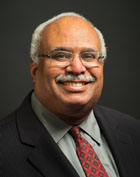 Georges C. Benjamin, MD
Executive Director
American Public Health Association